"Reaching High Notes" – Judith Adele Agentis Charitable Foundation (JAACF) annual dinner gala
Sat, March 23, 2019, 6:00 pm

-

11:00 pm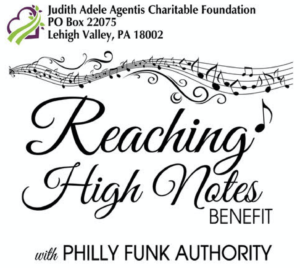 Reaching High Notes, Judith Adele Agentis Charitable Foundation (JAACF) annual dinner gala at Blue Event Center in Bethlehem!
The night of entertainment includes a cocktail/cabaret hour by Ginger and The Schnappes, and dancing to the sounds of The Philly Funk Authority.
Tickets are $95 per person and include passed hors-d'oeuvres, a three-course dinner of filet mignon, signature crab cakes, roasted vegetables, and dessert. A vegan option is available.
For tickets: Reaching High Notes with Philly Funk to Benefit JAACF org
Guests may bid on fashions from Lara Bly, travel, lessons and fine artworks by Rigo Peralta, Ward Van Haute, Randi Keeler-Sigafoos, Tina Cantelmi, and other artists. "We depend on the generosity of local businesses and supporters," says Robert Agentis, JAACF chairman.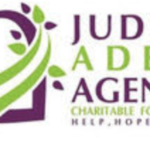 He says JAACF board members and volunteers have delivered more than 15,000 meals to family members spending precious last moments with a loved one at St. Luke's Hospice House.The Judith Adele Agentis Charitable Foundation was the recipient of the PA Hospice Network Heart of Hospice Award and was awarded the Shining Star Award from St. Luke's Hospital Network. In addition to meals, JAACF provides funding for early cancer detection education for pancreatic, liver and colon cancers.
6pm Cocktails and Music by Ginger and the Schnappes
6pm Fine Art Auction and Raffle Tables open
6:45pm Dinner featuring Filet Mignon and Signature Crab Cakes (Vegan option available)
7:30pm PHILLY FUNK AUTHORITY
10:30pm Auction and Raffle Tables close
For more information, visit JAACF.org; find us on Facebook, or email us at ba.jaacf@gmail.com.
The mailing address for JAACF.org is P.O. Box 22075, Lehigh Valley PA 18002.